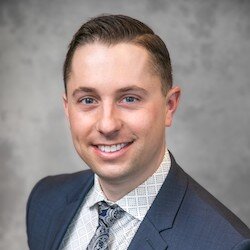 Dr. Cory Rued
Dr. Cory Rued, son of Dr. Tom Rued and Dr. Julie Johnson-Rued, was born and raised in Neenah, Wisconsin. Dr. Cory received a Bachelor of Science degree from the University of Wisconsin Eau Claire in 2012. In 2016, Dr. Cory received his Doctorate of Optometry degree from the Southern California College of Optometry (SCCO), graduating near the top of his class. SCCO is well known for its contact lens education, especially less common specialty lenses, thus Dr. Cory has great experience and interest in this area. Of particular interest are scleral contact lenses, which are larger lenses designed to improve comfort and vision by decreasing touch on the sensitive cornea.
For more information about scleral contact lenses, follow this link https://sclerallens.org/for-patients-2/what-are-scleral-lenses/ or click on our "Contact Lenses" tab to read a testimonial.
During his multiple student internships, Dr. Cory Rued spent several months at two Veteran Affairs Hospitals, assisting veterans with their vision needs. Another internship, a large multi-site co-management (optometrists with ophthalmologists) practice in Arizona, was particularly rewarding for Dr. Rued. During this time, he received unique training and experience in both the very rare and very common diseases of the eye. Working directly with ophthalmologists was an excellent experience that allowed Dr. Rued to treat and manage post-operative patients appropriately.
Dr. Rued practices general optometry and is always excited to expand his scope of practice to be able to provide the best possible care for patients of all ages. He is proficient in the fitting of multiple types of lenses and is well trained in the treatment and management of all diseases and/or complications of the eye, including dry eye, red/pink eye, glaucoma, macular degeneration, cataracts, diabetic/hypertensive complications of the eye, neurological (stroke, loss of vision, double vision), and retinal eye complications (floaters/flashes, tears, detachments). Dr. Rued also performs the MiBo ThermoFlo procedure – a procedure that has resulted in great success for moderate-to-severe dry eye patients.
Dr. Cory and his wife, Corinne, met during their freshman year at the University of Wisconsin Eau Claire. Corinne, originally from De Pere, traveled with him during his time attending SCCO in California. Along with spending time with his wife and two sons, Dr. Cory enjoys Wisconsin sports, golfing, skiing, hunting, fishing, photography, and an occasional craft beer.
After spending four years in California, Dr. Cory is often asked, "Why would you come back to Wisconsin?" In short, the answer is: his family, the Midwest lifestyle, being able to experience all four seasons and an excellent opportunity at Valley Vision Clinic. Dr. Cory looks forward to helping each patient achieve optimal vision and eye health while getting to know all the current and new patients.
Contact us today or visit our appointment request page to find a time that is convenient for you to see us.